Former Prime Minister of Singapore- Lee Kuan Yew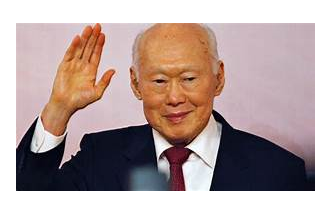 Lee Kuan Yew who is recognised as the nation's founding father was a Singaporean statesman and lawyer who had served as a Prime Minister of Singapore from the year1959 to 1990. Along with serving as a role of Prime minister for almost 31 years he was also one of the founders of the People's Action Party along with other Singaporean politician Toh Chin Chye, Lim Chin Siong, S. Rajaratnam and Lim Kim San.
Early life, Parents, Siblings, Education and Wiki of Lee Kuan Yew
Lee Kuan Yew was born as a Harry Lee Kuan Yew in the year 16 September 1923 in Singapore during British colonial rule. He was born as the first child of his parents Lee Chin Koon and Chua Jim Neo. Both of his parents were English educated. His mom Chua jim Neo was a Singaporean chef and cookbook writer popular for her Mrs. Lee's Cookbook. According to wikipedia, Lee had three brothers and one sister.
Talking about his education, Lee Kuan Yew enrolled at Telok Kurau English School in the year 1930, when he was at the age of 7. During his education, he joined the Scouts and had took part in the several physical activities and debates. He was also the top-scorer in the Senior Cambridge examinations held in 1940 where he scored top grades and got a scholarship for Raffles College. It seems this scholarship was one of his good luck as during the prize awarding ceremony, he met his future wife Kwa Geok Choo. However, his university studies at Raffles College were disturbed by the onset of World War II in Asia, with the school being converted into a medical facility in 1941. After the war, Lee continue his education and initially attended the London School of Economics, later transferred to Fitzwilliam College, Cambridge finally graduating with first-class honours in law in 1947.
Begining of Career after education
After graduating from Fitzwilliam College, Cambridge Lee was admitted to the English bar in the year 1950. However, he later returned to Singapore appointing as a legal adviser to the Postal Union. During his career as a legal adviser to the postal union he was also participated in negotiations to obtain higher salary for postal workers. He has done the same good job for other unions too.
In n the early 1950s, Lee formed an association in Singapore with two other political newcomers David Saul Marshall, a lawyer, and Lim Yew Hock, a trade unionist to challenge the hold of the businessmen on the council when constitutional reform was in the air. However, Lee immediately soon broke with his two colleagues to take a more radical stand, becoming secretary-general of the People's Action Party (PAP), his own party.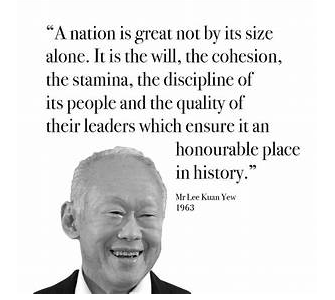 A new constitution was introduced in the year 1955 and a election was held in which the the Labour Front, founded by Lee's former colleagues, won 13 seats, while the PAP won 3. A year later, Lee returned to London as a member of a Singaporean delegation. In the year 1957 again with Lee on the delegation negotiations in London resumed and he won a by-election in Singapore by an overwhelming majority.
Following year, 1958, Lee helped negotiate the status of a self-governing state within the Commonwealth for Singapore. In May 1959 elections were held under Singapore's new constitution in which Lee campaigned on an anticolonialist, anticommunist platform calling for social reforms and eventual union with Malaya. In the election, his party won a strong victory, gaining 43 of the 51 seats, however Lee denied to form a government until the British freed the left-wing members of his party who had been imprisoned in 1956. But, after their release, Lee was sworn in as prime minister on June 5, 1959.
Prime Minister of Singapore from 1959 to 1990
As a president of Singapore Lee Kuan Yew, in the year,1963 took Singapore into the newly created Federation of Malaysia. Soon afterward election's held and the People's Action Party gained its control of Singapore's Parliament, and hence, he thus continued as prime minister. However, In 1964 he made the mistake of entering his party, 75 percent of whose members were Chinese, in the Malaysian national elections where the growing tension between Chinese and Malaysia resulted in communal rioting in Singapore itself. In August 1965 Lee was told by his Malaysian colleagues in the federal government that Singapore must leave the federation. Although Lee passionately believed in the multiracialism that the federation represented, Singapore had to break.
Lee's main principal as a Prime Minister was to ensure the physical survival of the new state and to retain Singapore's national identity. Being surrounded by more powerful neighbours China and Indonesia, Lee did not press for the immediate withdrawal of Commonwealth forces from Singapore. On the behalf of this, he desired to cut back them out slowly and to replace them with a Singaporean force locally trained and patterned on the Israeli model.
Along with this, Lee acknowledge that Singapore needed a strong economy in order to survive as an independent country, and hence, he launched a program to industrialize Singapore and transform it into a major exporter of finished goods. On the other hand, he encouraged foreign investment and secured agreements between labour unions and business management that ensured both labour peace and a rising standard of living for workers. He also works on improving health and social welfare services and emphasized the necessity of cooperation, discipline, and austerity on the part of the average Singaporean.
In the year 1966, the main opposition party of Lee's decided to boycott Parliament which made the dominance of the country's political life easier and hence, the PAP won every seat in the elections of 1968, 1972, 1976, and 1980, on which the opposition parties managed to claim one or two seats.
Under Lee's guidance he brought his country an efficient administration and spectacular prosperity and hence, by the 1980s Singapore had a per capita income second in East Asia and the country had become a chief financial centre of Southeast Asia.
PAP won the 1984 and 1988 elections and hence Lee's remained prime minister, although the question of the succession of leadership became an issue. And, in November 1990, Lee resigned the office of prime minister but he remained the leader of the People's Action Party(PAP) until 1992.
After his resignation from the Prime Minister, Goh Chok Tong, Lee's successor as prime minister named Lee to the cabinet position of senior minister, from which Lee continued to exercise considerable political influence. And, after Goh's resignation as prime minister in 2004 he was succeeded by Lee's son Lee Hsien Loong and Goh became senior minister. And, the elder Lee remained in the cabinet as "Minister Mentor," a position he held until 2011. He held his seat in Parliament until his death.
Lee Kuan Yew's Personal Life-Wife, Wedding, and Children
Lee Kuan yew got married to his childhood sweetheart Kwa Geok Choo on 30 September 1950. His wife Kwa Geok Choo was a Singaporean lawyer by her profession. She was the co-founder and partner of law firm Lee & Lee. Both of the husband and wife spoke English as their first language.
From their happy and blissful married life, Lee and Kwa had two sons and a daughter. Their elder son Lee Hsien Loong is a former Brigadier-General and had became Prime Minister of Singapore in 2004. Their younger son Lee Hsien Yang is a former Brigadier-General and former President and chief executive officer (CEO) of SingTel. He was also the Chairman of the Civil Aviation Authority of Singapore (CAAS). Their daughter, Lee Wei Ling, is a neurologist and epileptologist. She was also formerly the director of the National Neuroscience Institute. Lee's wife Kwa Geok Choo died on 2 October 2010.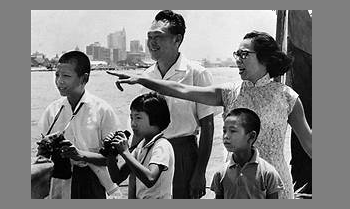 Cause of Death
Former Singaporean Politician and Prime Minister Lee Kuan Yew died at the age of 91 in 2015. The cause of his death was Pneumonia. Although he is no more alive he will always be remembered. Rest in Peace!