Dania Ramirez's Biography
| | |
| --- | --- |
| Born Name | Dania Jissel Ramirez |
| Popular As | Dania Ramirez |
| Profession | Actress |
| Date Of Birth | November 8, 1979 |
| Birth Place | Santo Domingo, Dominican Republic |
| Age | 40 Yrs Old |
| Parents | Daniel Ramirez, Agueda Camacho |
| Siblings | Danilda Ramirez (Sister), Denise Ramirez (Sister) |
| Height | 5ft 4inch |
| Weight | 54 Kg |
| Net Worth | $3 Million |
| Eye Color | Dark Brown |
| Hair Color | Dark Brown |
| Boyfriend | Jessy Terrero (2006 to 2008) |
| Husband | John Beverly "Bev" Land(m. 2013) |
| Marital Status | Married |
| Children | 2 |
Dania Jissel Ramirez is a Dominican-American television and film actress who has appeared in several movies and television series till the date. Her credits include the roles of Maya Herrera in Heroes, Alex in Entourage, and Blanca during the last season of The Sopranos on television. She is a married woman and also a mother of her twin's children. To know everything about her personal and professional continues reading until the end, and all those facts will be revealed.
Early Life, Bio, Wiki Of Dania Ramirez. Age, Parents, And Childhood.
Dania Ramirez was born on November 8, 1979, in Santo Domingo, Dominican Republic to her parents Daniel Ramirez and Agueda Camacho. She is currently at the age of 40. She has two siblings, sisters, Danilda Ramirez and Denise Ramirez. During her early age, she has decided to become an actress. She was discovered by a modelling scout while working in a convenience store when she was at the age of 15 and was cast in a small part in a soda commercial. Later, she decided to pursue acting seriously and studied at the Actor's Workshop in New York City.
For her education, Dania Ramirez studied at Montclair State University and got her graduation in 2001. Later, she moved to Los Angeles to pursue her acting career.
Dania Ramirez's Career. Path To Success.
Moving towards the career of Dania Ramires, she first started her career appearing in music videos. Then, she started acting making a feature film debut in an American drama 25th Hour in 2002 and made her TV debut with a role as Caridad in supernatural drama Buffy the Vampire Slayer in 2003. Similarly, she has appeared and starred in many films including, She Hate Me in 2004, Fat Albert in 2004, X-Men: The Last Stand in 2006, The 5th Commandment in 2008, American Reunion and Premium Rush both in 2012.
Furthermore, she is best known for her role as Blanca Selgado in The Sopranos from 2006 to 2007, as Maya Herrera in Heroes from 2007 to 2008 and as Rosie Falta in comedy-drama Devious Maids from 2013 to 2016. She is also known for starring as Cinderella / Jacinda Vidrio in fantasy-drama Once Upon a Time from 2017 to 2018 and as Hannah Perez in Tell Me a Story from 2018 to 2019.
Dania Ramirez's Net Worth. How Much She Earns? Also, Know About Her Salary.
Hardworking and dedicated personality Dania Ramirez who got famous for appearing as Maya Herrera in Heroes, Alex in Entourage and Blanca on The Sopranos has already earned a whopping amount of money from her career as an actress in the Hollywood industry. And, as of 2020, her net worth is estimated to be $3 Million. However, her salary is not available till the date. Hence, with all this income and net worth, he is able to live a very luxurious and healthy lifestyle.
Dania Ramirez's Personal Life. Relationship, Dating, Husband, Children And Affairs.
Heading towards the personal life of actress Dania Ramirez, she was previously in a dating relationship with her boyfriend Jessy Terrero whom she dated from 2006 to 2008. And, after getting breakup, three years later, she became engaged in September 2011 to director John Beverly "Bev" Land. And, on February 16, 2013, the couple got married on the beach in Punta Cana, Dominican Republic. Her husband John Beverly "Bev" Land has a son Kai (b. 2001) with his former wife Sharon Leal. However, Dania doesn't have any problem with her husband's previous relation and his child.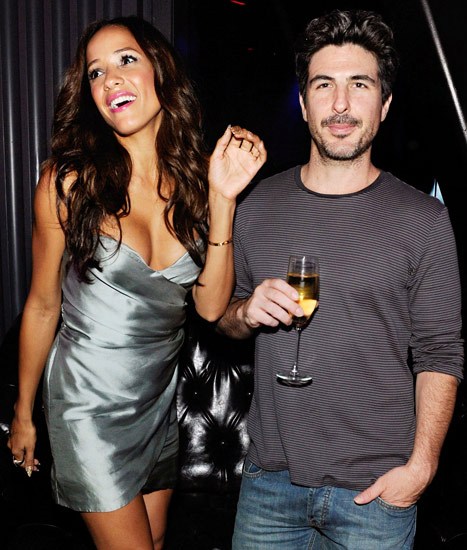 And, on July 15, 2013, Ramirez announced that she was pregnant with twins and in December of the same year, she gave birth to fraternal twins: a son John and a daughter Gaia. Hence, at the moment the family of four is living a happy family life.
Dania Ramirez's Body Measurement. Height, Weight, Wiki, Bio, And Many More.
40 yrs old, actress and model Dania Ramirez who is also a mum of her twins children looks really hot and gorgeous with a perfect measurement of her physical attributes and a fairer skin tone. She stands at a height of 5ft 4inch and a weight of 54Kg. She has dark brown coloured eyes and dark brown hair, which makes her look extra classy and sexy. Even after being a mother she is able to maintain her slim body structure and manages to look glamorous.
Dania Ramirez On Social Media. Facebook, Instagram, And Twitter.
Dania Ramirez a Dominican-American television and film actress is also active on various social networking sites like Facebook, Instagram and Twitter. Being a famous Hollywood personality, she loves sharing her personal thoughts and images on social media and has a quite large number of fans and followers over there. On her official Instagram, she has 275 K followers. To know more about her personal life and to be updated about her life events, you can go through her social media profile and follow her:
Where and when was Dania Ramirez born?
November 8, 1979 in Santo Domingo, Dominican Republic
What nationality does Dania Ramirez belong to?
Dominican Republic
What is Dania Ramirez 's ethnicity?
Dominican Republic
What is Dania Ramirez's eye color?
Dark Brown
Which color of hair does Dania Ramirez have?
Dark Brown
How tall is Dania Ramirez ?
5ft 4inch
How old is Dania Ramirez ?
40 Yrs Old