Nepalese Musician Dibesh Pokharel Aka Arthur Gunn's Is An American Idol Contestant
Arthur Gunn is the stage name of American Idol contestant whose real name is Dinesh Pokharel. Dibesh Pokharel is a singer-songwriter from Nepal who later chooses Arthur Gunn as his stage name.
In May 2019, in an interview, Dibesh stated that he starting thinking about using a stage name while working on his debut album "Grahan," His debut album has an eight-song collection that dropped in the summer of 2018.
Motivation For Music
Talking about his inspiration behind the music, Dibesh had said that he doesn't come from a musical family but was lucky enough to grow up around music and be exposed to it from an early age. According to him, he started singing six years ago. And, his inspirations are John Martyn, Nick Drake, Bob Dylan, Bukka White, Robert Johnson, Howlin' Wolf, Sonny Boy Williamson and John Lee Hooker.
Life Before American Idol
Before getting into the platform of American Idol, in Nepal, Gunn used to perform in coffee houses and restaurants and sometimes during gatherings of friends. And, later he recorded some of his music.
Journey To American Idol
Talking about his journey of American Idol, he submitted an online audition to "Idol" last year and was invited to attend the Wichita in-person auditions, which fascinated a big crowd to Century II. And, his whole experience has been pretty wild, and Gunn said, "I've had a little bit of nervousness, but I always believed in my music and believed in myself that I could do it."
Arthur Gunn's Net Worth
Arthur Gunn whose real name is Dibesh Pokharel is a rising South Asian singer who is trying to pursue a career moving to America to make a career. But, although having skill in music, for the daily living expenses he needs to work in other sectors.
Till the date, Gunn's net worth hasn't been disclosed yet, but he earns a significant sum from his official YouTube channel. According to some source, he earns around $20,000 annually from his music website on the digital platform.
Arthur Gunn Impresses American Idol Judges
In the audition of American Idol, Gunn made it in front of celebrity judges Katy Perry, Lionel Richie and Luke Bryan
In the clip, Gunn strums his guitar in front of the celebrity judges as he performs a few lines from "Have You Ever Seen the Rain." After, his performance, judge Bryan appears to say of him, "I think he might be the biggest star we've ever had on 'American Idol.'"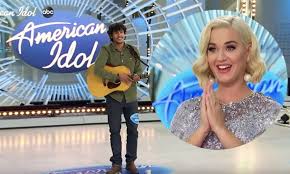 Let's wish him all the best for his upcoming music journey!!!