Know About Girls Actress Allison Williams. Age, Height, Net Worth, Married Life, Husband
| | |
| --- | --- |
| Born Name | Allison Howell Williams |
| Profession | Actress, Singer |
| Date Of Birth | April 13, 1988 |
| Birth Place | New Canaan, Connecticut, U.S |
| Age | 31 Yrs |
| Height | 5ft 5inch |
| Weight | 54 Kg |
| Net Worth | $2 Million |
| Eye Color | Blue |
| Hair Color | Dark Brown |
| Boyfriend | Not Available |
| Husband | Ricky Van Veen (m. 2015) |
| Marital Status | Married |
Early Life, Bio, Wiki Of Allison Williams
Allison Williams's Career
Allison Williams's Net Worth
Allison Williams's Personal Life
Allison Williams's Body Measurement
Allison Williamson Social Media
Allison Williams is an American actress and singer who played Marnie Michaels on the HBO comedy-drama series Girls. She is currently at the age of 31. She owns a net worth of $2 Million. Currently, She lives with her husband live in Chelsea, New York.
Early Life, Bio, Wiki Of Allison Williams. Age, Parents, And Childhood.
Actress Allison Howell Williams popular as Allison Williams was born on April 13, 1988, in New Canaan, Connecticut. Allison is currently at the age of 31. She is the daughter of former NBC Nightly News anchor and managing editor Brian Williams and TV producer Jane Gillan Stoddard. Moving towards her sibling, she has a younger brother who is three years junior to her.
Talking about her education Allison attends New Canaan Country School and Greenwich Academy. She got her graduation from Yale University.
Allison Williams's Career. Path To Success.
Moving towards her career, Williams performed a mashup of "Nature Boy" set to RJD2's "A Beautiful Mine", the theme song for the television series Mad Men in 2010. Her performance on the video received widespread praise on the Internet. After gaining such popularity Judd Apatow convinced that Allison should be given a part in the HBO series Girls.
Williams wrote a series of Funny or Die sketches, in which she starred as newlywed Kate Middleton, with English actor and model Oliver Jackson-Cohen as Prince William, Duke of Cambridge. She has also appeared as a recurring character, Cheryl, in the CollegeHumor series Jake and Amir.
Allison has starred in the title role on NBC's live television presentation of the musical Peter Pan Live!, opposite Christopher Walken as Captain Hook on December 4, 2014.
In 2017, Williams starred in the hit horror film Get Out, directed by Jordan Peele, who became convinced she was right for the role of Rose after seeing her performance in Peter Pan Live!
In 2018, Williams was cast in a recurring role as Kit Snicket throughout the second and third seasons of the Netflix comedy-drama series A Series of Unfortunate Events.
Allison Williams's Net Worth. How Much She Earns?
Stunning personality Allison Williams is considered as one of the well-paid personality in the entertainment industry with a fascinating net worth. Her hardworking nature and positive attitudes towards her work are the major reason for her huge success. She owns a net worth of $2 Million.
Also, it seems that her fate and fortune is also in favor of her since she achieves all her aims at a very young age. Her annual salary is still under the review but it seems that Ginny makes a good amount of money since she leads a very luxurious life.
Allison Williams's Personal Life. Relationship, Dating, And Affairs.
Williams started dating Ricky Van Veen, co-founder of CollegeHumor, in 2011. They became engaged in 2014 and got married on September 19, 2015, in a private ceremony. Currently, She lives with her husband in Chelsea, New York.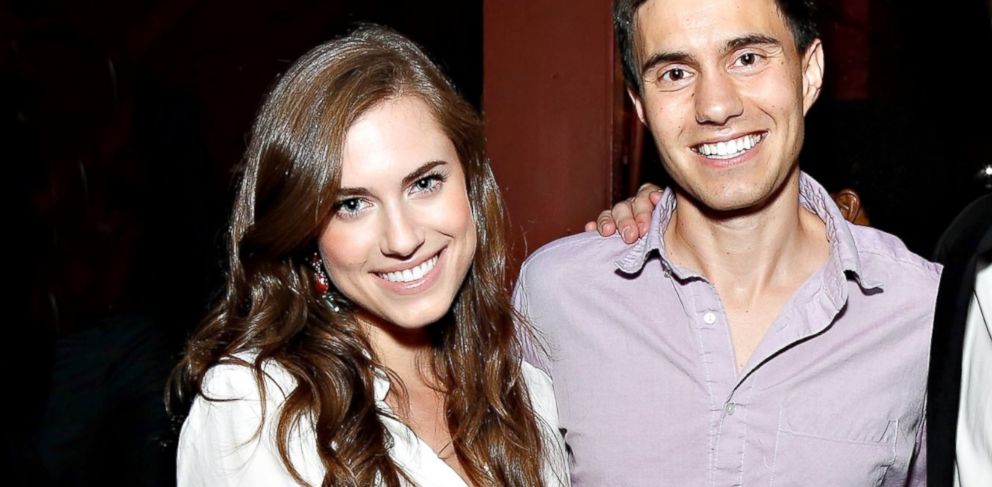 Allison Williams's Body Measurement. Height, Weight, Wiki, Bio, And Many More.
Allison Williams has an attractive body structure and an applauding fashion sense. She stands at a height of 5 feet 5 inches and possesses a weight of 54 Kg.
With an attractive body measurement, she is undoubtedly the ideal girlfriend for millions of her fans.
On top of that, she maintains her weight and measurements with a strict diet plan and follows an extensive schedule of running and Zumba dance to maintain a healthy heart. In addition to this, she spends her maximum time at the gym.
Allison Williams On Social Media. Facebook, Instagram, And Twitter.
Actress Allison Williams is quite active on social networking sites like Facebook, Instagram, and Twitter. She has almost 923K followers on Instagram.
Where and when was Allison Williams born?
April 13, 1988 in New Canaan, Connecticut, U.S
What nationality does Allison Williams belong to?
American
What is Allison Williams's ethnicity?
White
What is Allison Williams's eye color?
Blue
Which color of hair does Allison Williams have?
Dark Brown
How tall is Allison Williams?
5 feet 5 inch
How old is Allison Williams?
31 yrs