Is Suzy Kolber Married? Age, Height, Net Worth, Salary, Family, Husband, Child, Wiki-Bio
Born Name
Suzanne Lisa "Suzy" Kolber
Profession
Football sideline reporter, Co-producer, Sportscaster
for ESPN
Date Of Birth
May 14, 1964 
Birth Place
Philadelphia, Pennsylvania, U.S.
Age
55 Yrs Old
Height
5ft 7inch
Weight
Not Available
Net Worth
Not Available
Eye Color
Blue
Hair Color
Light Brown
Boyfriend
Not Available
Husband
Eric Brady m.2008
Marital Status
Married
Child
Kellyn
Suzy Kolber is an American football sideline reporter, co-producer, and sportscaster for ESPN. In the year 1993, when ESPN2 was launched, she was one of the original anchors but she left after three years and joined ESPN2 Fox Sports.
Suzy Kolber is currently at the age of 55. Her relationship status is married to her husband Eric Brady. She has one child, a baby daughter name Kellyn. With the height of 5ft 7inch, she looks extremely beautiful. Her net worth and salary are not available. Suzy belongs to a Jewish family.
Let's dig into details to know more about her along with her wiki-bio.
Contents

Early Life, Bio, Wiki Of Suzy Kolber
Suzy Kolber's Career
Suzy Kolber's Net Worth
Suzy Kolber's Personal Life
Suzy Kolber's Body Measurement
Suzy Kolber On Social Media
Early Life, Bio, Wiki Of Suzy Kolber. Age, Parents, Family, And Childhood.
Kolber was born on May 14, 1964, in Philadelphia, Pennsylvania. She belongs to a Jewish family. For her education, Kobler went to Sandy Run Middle School in Dresher, Pennsylvania, and got graduation in 1982 from Pennsylvania's Upper Dublin High School. Again, she is graduated from the University of Miami in 1986.
Suzy Kolber's Career. How She Achieve Her Goal?
Moving towards Suzy's career. she began working before completing her graduation. From 1984 to 1986, she worked at Dynamic Cable in Coral Gables, Florida, as a sports director. And, after completing her graduation, she worked at CBS Sports in New York City as a videotape coordinator.
From the year 1985 to 1989, Kolber produced the 5:30 p.m. ET sportscast at WTVJ-TV in Miami. She freelanced as a specials producer for WPLG-TV in Miami from the year 1989 to 1990. In addition, she produced two magazine shows, Greyhound Racing America Cowboys Special Edition. In 1991, Kolber's freelance assignments included work as a reporter/producer for Breeders' Cup Newsfeed in Greenwich, Connecticut. Furthermore, she was a weekend sports anchor and weekday feature reporter at WPEC-TV in West Palm Beach, Florida.
Suzy Kolber's Net Worth. How Much She Earns? Salary And LifeStyle
Suzy Kolber who is popular as a sportscaster for ESPN must have a good salary and net worth, as she is one of the hardworking personality who always seems to be dedicated towards her work. Some of the wiki pages estimates her net worth to be in millions. However, the exact figure is not available till the date. Similarly, her monthly salary is also hidden among the public.
Suzy Kolber's Personal Life. Relationship, Married Life, Husband, And Child.
Beautiful anchor and reporter Suzy Kolber is a married woman. After dating for some time she got married to her boyfriend Eric Baddy who later turned her husband in 2008. The couple has a child, a daughter. At the moment, Suzy is living a happy family life with her husband Eric and her child, Kellyn.
Despite Eric, her name is not linked with any other guy. There are not any rumors about any kind of misunderstanding between the beautiful couple. Hence, it seems that they have a long way to go together holding each other hand and soul.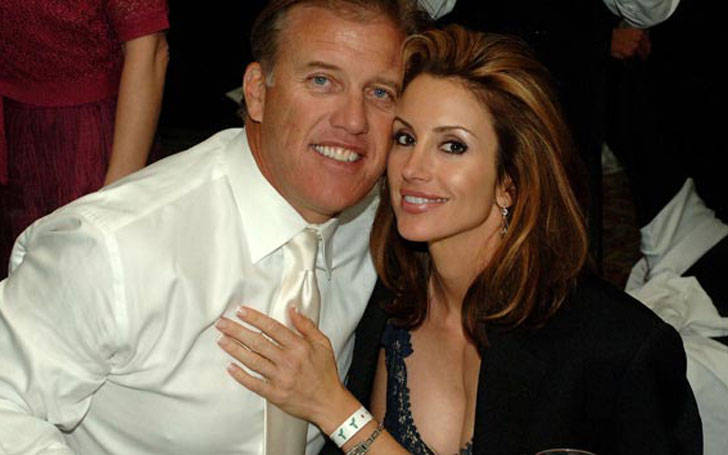 Suzy Kolber's Body Measurement. Height, Weight, Wiki, Bio, And Many More.
Gorgeous personality, Suzy Kolber has got really attractive body structure with slim body structure and fairer skin tone. With a height of 5ft 7inch, she looks extremely hot and fit. However, her weight is not available. She has got blue colored eyes and light brown hair.
Suzy Kolber On Social Media. Facebook, Instagram, And Twitter.
Popular as an anchor and reporter for ESPN and fox sports, Suzy is much popular among social networking sites like Facebook, Instagram and Twitter. She loves sharing her personal thoughts and images on social media. She has 4.6K followers and 9posts on her Instagram. If you wanna know more about her and be updated about her life events, just go through the link given below and follow her,
Where and when was  Suzy Kolber born?
1994 in Killeen, Texas, USA
May 14, 1964 in Philadelphia, Pennsylvania, U.S.
What nationality does  Suzy Kolber belong to?
American
What is Suzy Kolber's ethnicity?
White
What is Suzy Kolber's eye color?
Blue
Which color of hair does  Suzy Kolber have?
Light Brown
How tall is Suzy Kolber?
5 feet 7 inch
How old is Suzy Kolber?
55 Yrs